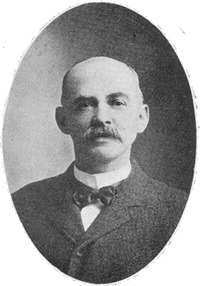 An Alexandria, Virginia Tradition
In 1876, our great-great grandfather, Louis P. Shuman, established an institution in our hometown of Alexandria, Virginia: Shuman's Bakery.  The storefront bakery closed in 2004, but after a six-year hiatus, we reopened the bakery in November 2010, featuring one product—the renowned Shuman's Jelly Cake, by advance order only.
Shuman's Jelly Cake is made using the original family recipe–three thin layers of pound cake, separated by layers of homemade red currant jelly.  About 12 inches in diameter, jelly cake can be cut into about 50 bite-size diamonds for a finger-food dessert, or into 16 wedges if one wishes to eat with a plate and fork.  Powdered sugar is included and can be sifted or sprinkled on top.  Shuman's Jelly Cake can be frozen for later use.
While it's possible that Shuman's will once again have a storefront presence, for now, at least, the sense of community that Shuman's Bakery has always provided to Alexandria will be on-line. We ho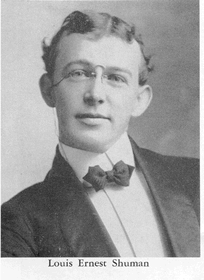 pe you will be an active part of this community by visiting our Facebook page.
Louis, like each of us an Alexandria native, was the son of German immigrant Ernest Shuman, who arrived in America in 1825 and settled in the seaport town of Alexandria.  In his twenties, Louis established L. Shuman, Confectioner, which for many years was located in the historic Marshall House at 430 King Street. After moving to the 500 block of King Street, the family, including his son and eventual partner, Louis E. Shuman, lived above the bakery. Louis E. Shuman's children, including our respective grandparents, Marshall Shuman and Frances Shuman Kilroy, were born there.
L. Shuman and Son became Shuman's Bakery and continued as a family-owned independent business in Alexandria for 128 years.
Its signature product, Shuman's Jelly Cake, became a necessity at Alexandria family gatherings, and it developed a national and international following: according to an old newspaper clipping, it was served to Princess Elizabeth before she became Queen of England.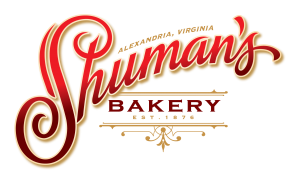 Alexandria native Willard Scott once said in Country Living magazine, "I don't care what kind of diet I'm on, if I can't eat Shuman's Jelly Cake, I don't deserve to live."
When our cousins Lonny and Teddy Marchant – the fourth generation of Shumans to own the bakery – retired in 2004, Shuman's retail bakery on South Washington Street closed. But family members continued to discuss the possibility of carrying on Shuman's as a family-owned bakery.
In 2009 we created a Facebook page, which consisted simply of a brief description of when and where Shuman's Bakery was founded, along with some historical Shuman's photographs. Without any promotion, we soon found that we had more than 100 fans, many of whom reminisced fondly about Shuman's Bakery, especially Shuman's Jelly Cake. Inspired by their comments, we formed L. Shuman and Sons LLC (d.b.a. Shuman's Bakery) to bring the bakery back on-line.
We have re-established Shuman's to renew and carry on this family tradition. We continue to make Shuman's Jelly Cake from the original family recipe, using only the finest ingredients.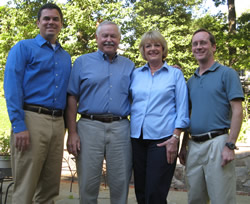 We turned again and again to our cousins Lonny and Teddy Marchant for advice and support, and have been grateful for their assistance as we endeavor to continue this family bakery tradition.
It's not just a family tradition. It's an Alexandria tradition.
– Patrick Hagan, John Leary, & Marshall Shuman Hagan
From left:  John Leary, Lonny Marchant, Teddy Marchant, Patrick Hagan.  Not pictured:  Marshall Shuman Hagan.